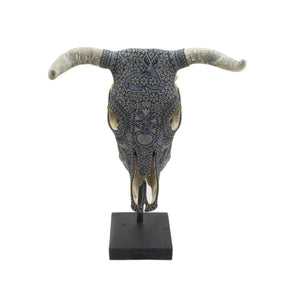 Gorgeous design crafted Huichol highly beaded skull, beautiful colors,  artistic tribal symbols. Selected colors to complement your interiors. Sculpture mounted on Wood and iron base.  
Beads are placed on beeswax, therefore the sculpture should not be placed on hot or direct sun locations.  18"W x 28"H x 7"D 
Decorate your modern primitive home, luxury farmhouse or dreamed coastal getaway!