WELCOME TO ARKA 🌿
After two years of a fulfilling living experience with my family in Malaysia, with a few days before moving back to Houston, I required an urgent and critical surgery. Thankfully, it was nothing, so after hearing the great news and driving back home with my Husband, Jose, we saw and immediately stopped at a store selling handmade wood tables. Since then we fell in love with design-crafted interiors and decided to pursue our dream. Five years has passed since then and we have been able to build a community (dream team) of what we consider the best design crafters from around the globe.

My name is Lula, I studied art and Interior design in Cuba and after two unsuccessful attempts in escaping by boat from my dear homeland, I was finally able to fly away to Venezuela and become a free person. ARKA Living is the result of my unforgettable experiences in Cuba, the openness of all of the countries I have been luckily to appreciate their culture, lifetime friends, best business partners, the best customers (fans) in the world and the love and support of my family. ARKA is our dream of artistic freedom, it is our dream of a world where Artisans are paid much better than industrial production jobs and artistic traditions and heritage are sustained and passed from generation to generation.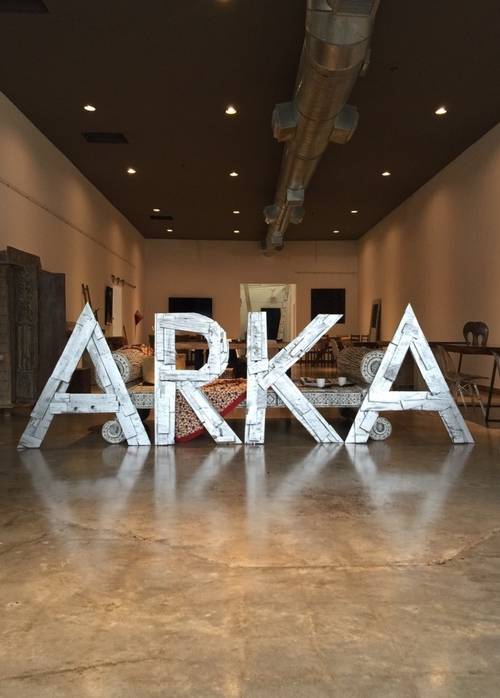 We welcome you to visit our brick and mortar showroom in Houston Museum District and support our dream, the dream of our artisans and your dream of relaxing, natural and unique atmospheres. Contact us if you want us to build your dream home project, combining one-of-a-kind items from far cultures and making your home an authentic space that represents you and your soul.
Our company is an expansion of the KsaR Living interior design company that is based in Ibiza and has been in the marketplace for more than a decade. KsaR–founded by the Spanish interior designer and architect Alberto Cortes–specializes in the design and set-up of luxury villas, boutique hotels, restaurants, and resorts worldwide. ARKA is headquartered in the design district of Houston, Texas. We work in collaboration with interior designers, architects, and individuals to identify and integrate our variety of products brought from different regions of Africa, South East Asia, and the Mediterranean. All together we shape a harmonious atmosphere in which the mixture of history and art give an aura of mysticism and contemplation at home or in the business office. We also specialize in bathrooms, and swimming pools as we produce and import our own custom-designed tiles, natural stones, and flooring.
We devote our existence to contribute preserving our diverse cultural heritage; we have a network of the best design crafters from around the globe